Welcome to another week of #throwbackthursday with the 3 Southern Gals!
Can I be real with ya'll this week? I can? Okay, great...
Hi, my name is Kelly. And I just got Twitter like... a few months ago. Ya'll, I honestly never understood the excitement behind Twitter, and still don't. Yea, it's great for the blog but.... Let's be honest. If I didn't have the blog, would I have a Twitter account?
Probably not.
Wooo, I'm glad I got that off my chest! In honor of all my previous doubt and lack of fascination with the Twitter bug, I decided I would share my very first
tweet
.
Did ya'll go check it out?? Wasn't it special?
Know what else ya'll should go check out? This link-up and the other 2 fabulous ladies that are hosting it with me! Seriously, all the cool kids are doing this link-up. Drink the kool-aid!
A side note friends: Sweet Mrs. Cat's computer and cord have decided to die altogether on her, and she hasn't been able to resurrect the little beast. Sadly, she won't be able to finish her
love story
this week but she will definitely be back next week with the goods. Still go check out her blog!
----------------------------------------------------------------------------
Welcome back Y'all to another week with the 3 Southern Gals.
This Throwback Thursday Link Party has been such a blast.
We have met some amazing bloggers and read some incredible post.
As always thank you for sharing and linking up with us!!
So what is so great about this link party? Anyone can link up!! You can share a post you wrote today that shares old pictures and/or stories... But if you already have something else scheduled for today, or maybe you just found this link-up, no worries....link up an old blog post. We just ask if you link up a previous blog posting, that it be older than a week old. If you have any questions please don't hesitate to ask one of us.
Before you link up please read and make sure you are following the party guidelines :)
1. Make sure you are following ALL 3 of the Southern Gals Blogs.



2. Link up your throwback blog post. This includes a post where you share old pictures and/or stories. OR you may also share a blog post that was posted prior to last week.
In other words please do not link up to your blogs home page, a post you wrote this week that does not include something from the past.
3. Please no giveaways, shops, or other linkups.
(as these would also not fall into the throwback category)
4.
Share our party button and/or link back to our party.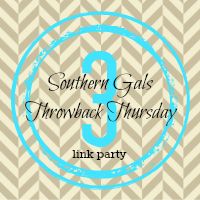 5. Don't just link and run...check our some other TBT post.
6. HAVE FUN!!!
****NOTICE****
We want this to be a fun link up, so link up your post!! Lets reminisce together. All we ask if that if you link up, PLEASE follow ALL the rules. We really do not want to delete links. Honestly this is the last thing we want to do, but these link parities take a lot of our time an effort. In return we just need for you to be respectful to our party and to others. In the past linkups we have had a few each week that have not followed all the rules. Going forward we will have to delete any link that does not follow the party rules.
NOW LETS GET THIS PARTY STARTED